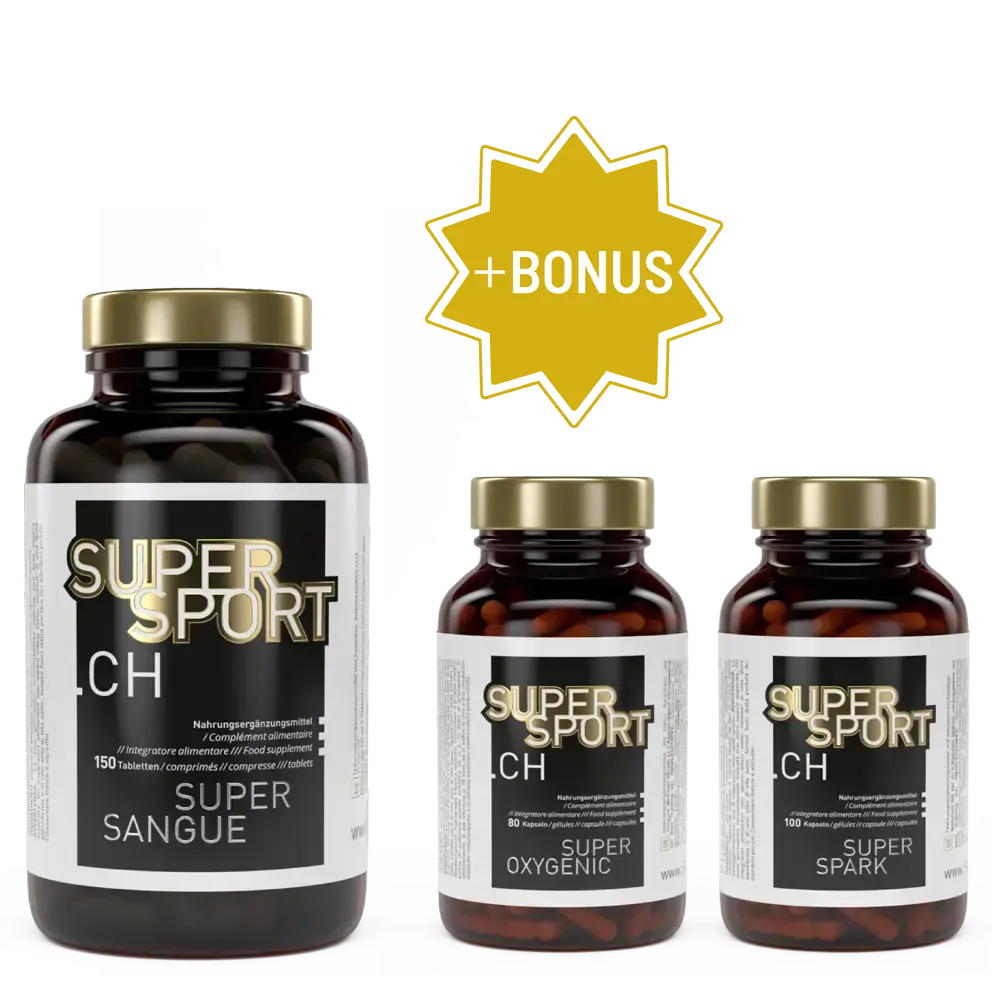 BUY THE BUNDLE AND RECEIVE
FREE PACK OF SUPER PH AND
SUPER B
VALUE OF THE FREE BONUS PACK / $248.00
SUPER SANGUE 150 TABLETS / $175.00
SUPER OXYGENIC 80 CAPSULES / $110.00
SUPER SPARK 100 CAPSULES / $172.00
SUPER B 100 CAPSULES / FREE
SUPER PH 150 CAPSULES / FREE
THIS BUNDLE CONTAINS
3 PRODUCTS AND 2 BONUSES

AND IS ENOUGH FOR 1 MONTH UP TO 2 MONTHS DUE TO DOSAGE APPLICATION
SUPER OXYGEN SUPPLY
SUPER SANGUE + SUPER OXYGENIC = Superior Oxygen Supply perfect for swimming, water polo, speed biking, marathon and short distance sprint running, biathlon skiing etc. FOR SUPER BEST AND FAST RESULTS, TAKE IN COMBINATION WITH SUPER SPARK included in the bundle.
HOW IT WORKS
The SUPER SANGUE bioactive salmon peptides are enhancing the red cell production, increasing the capacity of the blood to carry oxygen and store iron and also are actively increasing the ferritin and haemoglobin levels (up to 3,5% in the normal biological for the humans range).
SUPER OXYGENIC increases and improves the transport of oxygen in the body. SUPER OXYGENIC increases aerobic productivity, which increases the level of aerobic endurance and also enhances the metabolism.
SUPER SPARK is a food supplement that contains Adenosine Triphosphate or ATP. ATP (Adenosine Triphosphate) is the energy center of the cell. When the cell needs energy, it breaks down the ATP molecule and uses the energy contained in its bonds. Energy is needed for each muscle contraction, correspondingly, with greater muscle load, a greater amount of ATP is used. That is why during exercise it is necessary to provide the body with additional intake. In addition, ATP supports normal heart rhythm and improves skin health
Complemented with our free bonus packages of SUPER PH natural buffers the super building power provided by SUPER B active complex, this bundle gives the best oxygen and blood composition for all kinds of professional athletes' performance.
HOW TO TAKE, MAIN PROGRAM STEPS
1. Take 30 min pre-workout 2 caps SUPER OXYGENIC + 2 caps SUPER SPARK.
2. Take 5 to 8 (if you are over 75 kg) tablets SUPER SANGUE every morning + 2 caps SUPER B. Both products should be taken every day in the morning, irrespective if you are having a training day or not.
3. Take 2 caps of SUPER PH 1 hour before training.