THIS PRODUCT HAS BEEN TESTED FOR SELECTED DOPING SUBSTANCES WITHIN THE SCOPE OF COLOGNE LIST® – WITHOUT ANY COMPLAINTS.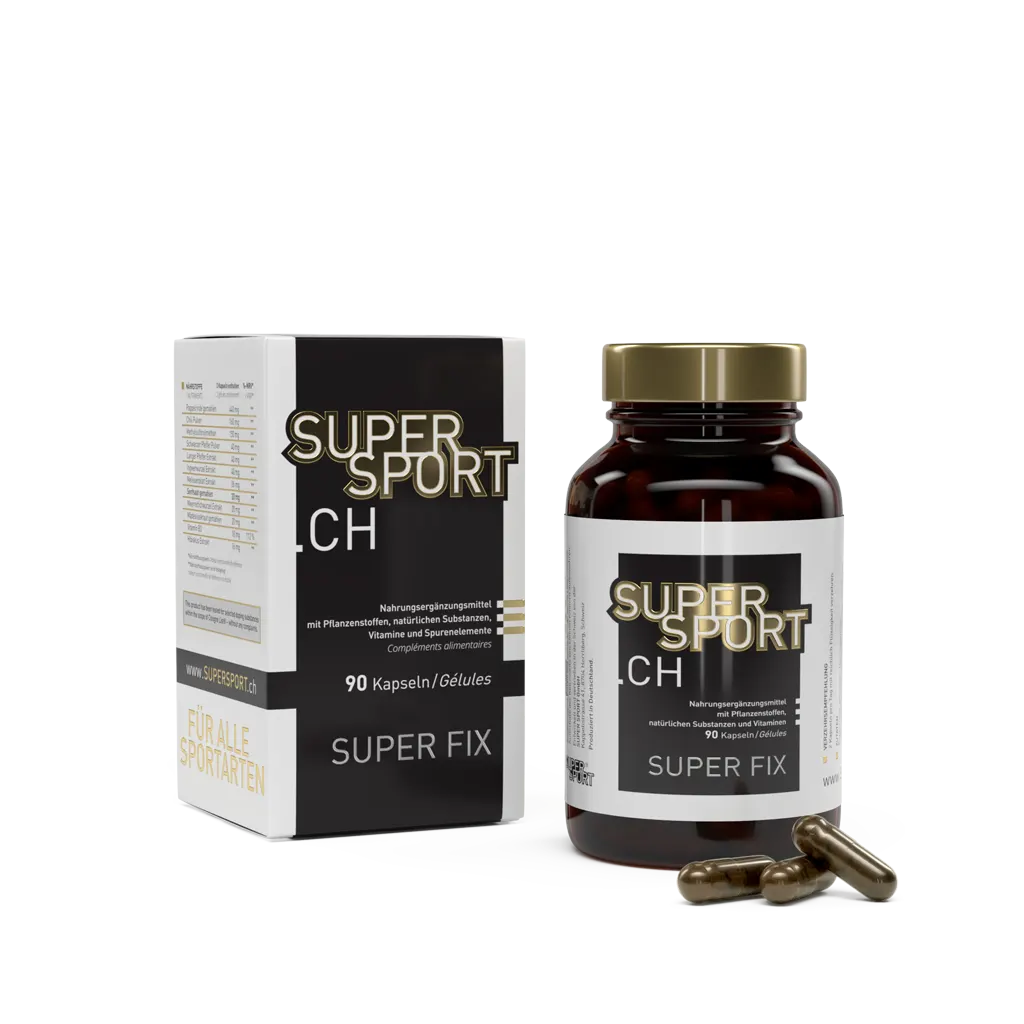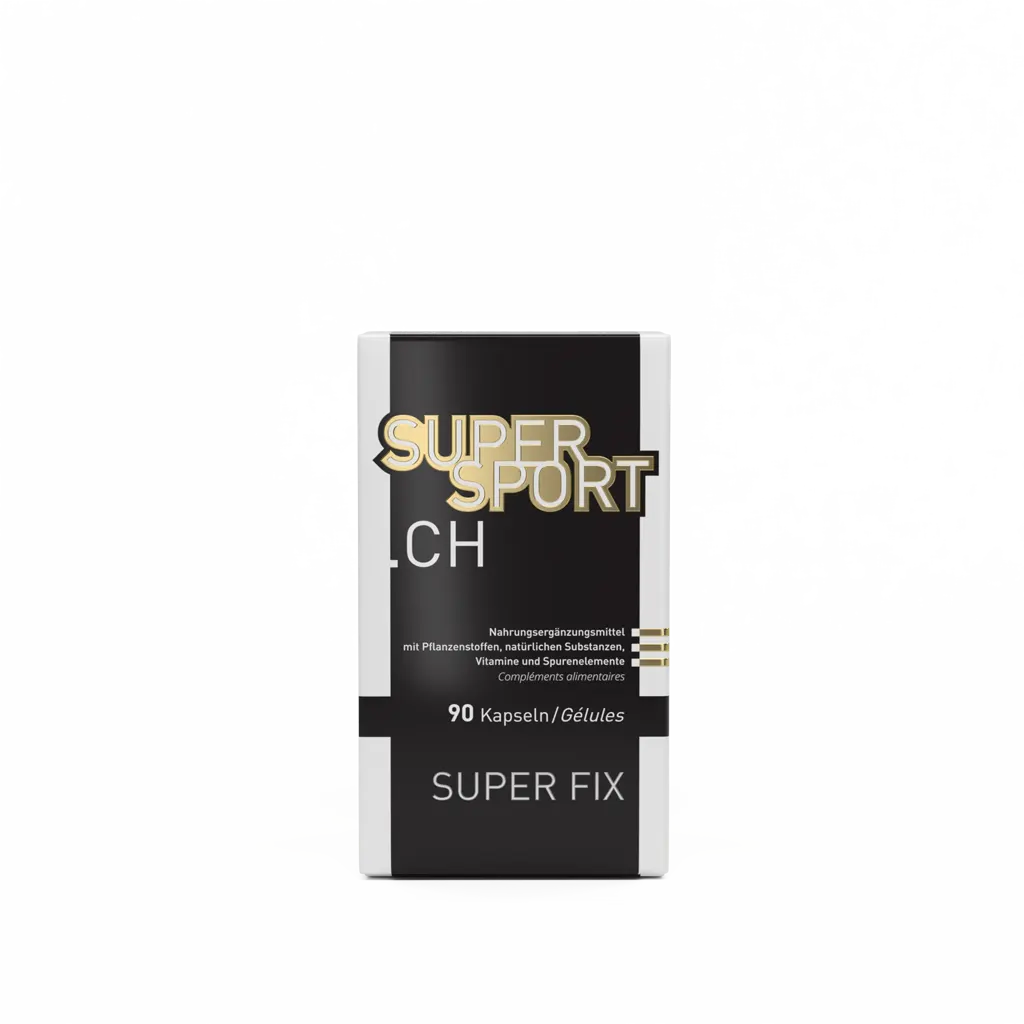 FOOD SUPPLEMENT WITH NATURAL SUBSTANCES AND VITAMINS FOR LOWERING THE DISCOMFORT FEELING AFTER WORKOUT –
100% VEGAN
SUPER FIX is an innovative supplement which supports the natural relief of painful sensations. SUPER FIX is a natural and healthy way to manage the intermittent pain and discomfort.
THIS PRODUCT CONTAINS
90 CAPS

AND IS ENOUGH FOR 1 MONTH AND 15 DAYS UP TO 3 MONTHS DUE TO DOSAGE APPLICATION
THIS PRODUCT HAS BEEN TESTED FOR SELECTED DOPING SUBSTANCES WITHIN THE SCOPE OF COLOGNE LIST® – WITHOUT ANY COMPLAINTS.
WHAT IT DOES
SUPER FIX has a natural pain-relieving, analgesic, anti-inflammatory and antioxidant effects. SUPER FIX is effective against various inflammatory mechanisms that develop and maintain different types of pain. Helps with recurring headaches, muscle pain, menstrual cramps, arthritis symptoms, etc. SUPER FIX contributes to normal muscle function, helping recovery after physical exertion. Supports the healthy functioning of cells, improves blood supply to the organs. SUPER FIX is an excellent stimulator of the immune system. Has a relaxing and calming effect. SUPER FIX restores comfort.
HOW IT WORKS
SUPER FIX is an innovative supplement that combines number of phenols, antioxidants and other biologically active compounds with remarkable preventive and therapeutic properties. SUPER FIX enhances the effect of most vitamins and nutrients but also improves their absorption into the cells.
SUPER FIX contains salicin which can be described as a natural form of aspirin (acetylsalicylic acid) that reduces pain and inflammation in the body. SUPER FIX is an excellent source of sulfur that has an important role in making collagen and glucosamine. SUPER FIX improves the action of the intestinal, digestive, and immune systems. Vitamin B3 contributes to a normal energy metabolism, normal function of the nervous system, normal psychological function, maintenance of normal mucous membranes, maintenance of normal skin and reduction of tiredness and fatigue.
HOW TO TAKE IT
Take 2 capsules daily with water.
ADVANCED NUTRIENT FEATURES
SUPER FIX comes in the form of a cellulose capsule (the so called hydroxypropyl methylcellulose capsules which have no additional ingredients in comparison to tablets, and act as fiber material in the body). This facilitates the highest possible bioavailability of SUPER FIX absorbed by the body.
* Nutrient Reference Value
** Nutrient Reference Value not established
The product comes in a glass bottle with metal screw lid, packed with PVC sleeve in a luxury carton box. Quantity: 90 caps / 53.0 g
MAXIMUM PROTECTION AND SAFETY
The brown glass is protecting the capsules from the damaging effect of light, while the metal screw lid with airtight press sealing and head sleeve is acting as a barrier against air circulation that could bring oxidative damage to the freshly produced and filled into the bottle capsules. The carton box acts as light and glass breaking protection.
Keep out of reach of children. Consult your physician before using this product, in case you're pregnant, lactating, under age of 18, if you have any known or suspected medical condition(s) or use any prescribed medicine(s). Do not exceed the maximum recommended daily amount. This product is not a substitute for a balanced daily meal diet. Store this product in a cool and dry place under 25 C with the lid tightly closed. Manufactured in Germany, in accordance with ISO 9001:2000 quality standard.
Cottonwood bark powder
The cottonwood, also known as the poplar is a tall tree, named for its cotton-like seeds. Populus is a genus that it includes more than 40 species trees in the family Salicaceae. The cottonwood tree bark has been used since ancient times as an anti-inflammatory and pain reliever.
The cottonwood tree bark has a unique chemical composition – it contains a number of phenols, antioxidants and other biologically active compounds. It contains the phenolic glycoside salicin, which can be described as a natural form of aspirin (acetylsalicylic acid). Salicin has natural anti-inflammatory, antispasmodic, antibacterial and analgesic properties.
Once metabolized in the body, salicin is converted to salicylic acid. Salicylic acid reduces inflammatory reactions that contribute to chronic diseases, fights pain and reduces fever. Helps with recurring headaches, muscle pain, menstrual cramps, arthritis symptoms, etc.
Salicylic acid has the property of supporting the normal function of the cardiovascular system by contributing to normal blood clotting parameters.The intake of salicylic acid is extremely suitable for people with cardiovascular diseases, as it reduces the risk of developing a stroke and heart attack.
In addition, salicylic acid also contributes to normal muscle function, helping recovery after physical exertion.
Cottonwood bark extract is suitable for intake during the cold months and the season of frequent colds, as it helps not only to reduce high fever, but also increases immunity.
Black Pepper extract
Black pepper (Piper nigrum) is used for colds, neuralgia and rheumatism. The main components of black pepper are the bitter glycoside piperine, vitamin E and C.
Piperine has many health benefits, one of the main ones being that it increases the bioavailability of many other beneficial ingredients. Taking piperine as a food supplement increases the ability to absorb useful substances, preventing them from turning into waste and being expelled from the body.
Black pepper energizes the nervous system, improves the digestive function of the stomach and strengthens the muscles of the digestive organs. It helps to produce more gastric juice and ferments, helps with flatulence and gastritis with increased acidity.
Long Pepper extract
Long pepper, also known as Indian long pepper (Piper Longum), is a plant that is both a part of ancient Ayurvedic treatments as well as an everyday spice mix. It contains piperine – a major alkaloid that improves the action of the intestinal and digestive systems.
Long pepper is known as an aid in diets and slimming regimes, as it supports weight control without having side effects on the body. The plant effectively lowers body fat, cleanses the body of fatty toxins and prevents obesity. An extremely useful remedy for the treatment of diabetes and liver diseases.
Scientific studies have established the anti-inflammatory properties of long pepper. It soothes and relieves muscle pain and inflammatory processes.
Ginger Root extract
The aroma of ginger (Zingiber officinale) is pleasant, the taste spicy to hot. The ginger root contains a viscous balsam (Oleoresin) of essential oils and a hot component – gingerols and shoagols.
Powdered ginger root is used as an anti-nausea and anti-vomiting agent. It has a stimulating effect on gastric juice, saliva, the formation of bile juice, as well as the functioning of the intestines. The spicy ingredients also have a positive effect on the well-known travel sickness or seasickness.
Scientific evidence supports the beneficial properties of ginger, including its antioxidant effectiveness. Ginger stimulates the expression of several antioxidant enzymes and reduces the generation of free radicals.
Studies prove the anti-inflammatory and pain-relieving effects of ginger. Its bioactive compounds have an analgesic and anti-inflammatory effect. They act like non-steroidal anti-inflammatory drugs, with the difference that the intake of ginger extracts does not damage the gastrointestinal mucosa.
In addition, ginger is an excellent stimulator of the immune system.
Mustard Seeds milled
Mustard seeds (Brassica napus) are rich in several minerals such as selenium, copper, calcium, iron, magnesium, phosphorus, potassium, sodium, zinc and manganese. Mustard seeds are also a good source of vitamins, including vitamins C, A and K, vitamins B1, B2, B6, and folic acid. They have a high percentage of dietary fiber and are a valuable source of several bioactive compounds such as antioxidants and polyunsaturated fatty acids.
Vitamins A, C, and K are crucial for fighting chronic diseases, better vision and eye health, and blood clotting mechanisms. Mustard seeds are rich in fibers, selenium, manganese, and magnesium, which boost our immunity, maintain various bodily mechanisms and are crucial for bone health.
Phenolic compounds that are widely present in mustard seeds are known for their antioxidant activity. Mustard seeds contain numerous glucosinolates-derived antioxidants, including isothiocyanates and sinigrin. All these antioxidants help protect the body against oxidative damage, several infections, and chronic diseases. They also possess antibacterial, antifungal, anti-inflammatory, and anti-cancer properties.
Horseradish Root extract
Horseradish (Armoracia Rusticana) is a plant better known as a spice, but it is also extremely useful for our health. Horseradish is rich in vitamin C, potassium, sodium, sulfur, calcium, phosphorus, magnesium, chlorine, iron, copper, etc. It contains specific substances – phytoncides, which have antimicrobial properties. It also contains lysozyme – a substance with a natural antibiotic effect. This is why horseradish acts as a powerful immunostimulator. It also has a positive effect on rheumatism, diseases of the respiratory organs, kidney stones, menstrual disorders and cancer.
Meadowsweet Leaf powder
Meadowsweet herb (Filipendula ulmaria) contains various compounds with anti-inflammatory effects in the body, including salicylates and tannins.
Meadowsweet contains salicylic acid, the active component in aspirin that reduces pain and inflammation in the body
These compounds, as well as with others found in Meadowsweet act as antioxidants. Antioxidants fight cell and tissue damage caused by reactive molecules called free radicals that can contribute to many diseases.
Meadowsweet soothes and protects the mucous membranes of the digestive tract and stomach lining whilst reducing acidity. Studies have found that Meadowsweet can also promote the healing of chronic ulcers and prevent lesions from developing in the stomach. It is used in the treatment of heartburn, hyperacidity, gastritis and peptic ulceration. It is useful in treating diarrhoea.
Meadowsweet extract has also been shown in scientific research to inhibit the growth of the Helicobacter pylori bacteria.
Hibiscus extract
Hibiscus (Hibisci sabdariffae flos) is also popular under the names Chinese rose and karkade. The characteristic red color of hibiscus is due to the high content of anthocyanins – pigments with a powerful antioxidant effect. Hibiscus is rich in various antioxidants, amino acids, fruit acids, B vitamins, vitamins C, A, P, pectin, calcium, chromium and others.
Hibiscus lowers blood pressure, reduces "bad" cholesterol, strengthens the heart, walls of capillaries and blood vessels. It acts as a mild diuretic, has a positive effect on the digestive system, improves the condition of the internal organs, especially the liver. It has anti-inflammatory and antibacterial properties, increases the body's defenses and stimulates the immune system.
The powerful antioxidants in the composition of hibiscus neutralize the harmful influence of free radicals, thus contributing to cell rejuvenation and maintaining the body in excellent health. Antioxidants in hibiscus slow the growth of cancer cells by inducing apoptosis (programmed cell death). Hibiscus normalizes the alkaline-acidic balance, has a calming effect on the nervous system and helps with sudden changes in mood. Hibiscus stimulates the removal of toxins from the body and has a positive effect on the condition of the hair.
Chilli powder (with Capsaicine)
The chili powder is made from dried chili peppers (Capsicum annuum). Chili peppers are rich in antioxidants and various vitamins and minerals.
Capsaicin, the main bioactive plant compound in chili peppers, which is responsible for their hot taste has some unique properties. Capsaicin is well known for its pain-relieving properties by affecting the neurotransmitter that transmits the pain signal to the brain and thereby reducing its perception. It activates the release of a compound that is thought to send pain signals between the nerves in the spinal cord and other parts of the body. Capsaicin is often used to relieve pain caused by arthritis, diabetic neuropathy, migraines, muscle strains and sprains.
Capsaicin has also antifungal properties, it destroys harmful bacteria in the stomach that cause a number of inflammatory guts diseases.
Capsaicin accelerates heat-generating processes in the body, stimulates metabolism and the conversion of fats into energy.
Chili peppers are high in vitamins A and C, which help strengthen blood vessels. These vitamins are also crucial to maintaining the immune system. The potassium content of chilli powder aids in blood pressure regulation because it promotes blood vessel healing.
Methylsulfonylmethane (MSM)
Methylsulfonylmethane (MSM) is an organic, biologically active form of sulfur found in all living organisms. The substance has truly remarkable preventive and therapeutic properties. When the body is deficient in biological sulfur, it can cause every cell, tissue and every organ of the body to malfunction. Sulfur is the third most abundant mineral in the body after calcium and phosphorus. Sulphur has an important role in making collagen and glucosamine, both of which are vital for healthy bones and joints, and in the production of immunoglobulins, which help immune system.
Laboratory studies have found that methylsulfonylmethane has anti-inflammatory and antioxidant effects.
Methylsulfonylmethane not only enhances the effect of most vitamins and nutrients such as vitamin C, coenzyme Q10, all vitamins, selenium and magnesium, but also improves their absorption into the cells. Because the body uses nutrients better, the use of nutritional supplements is even more effective. Methylsulfonylmethane shows a positive effect in degenerative joint diseases, rheumatism and inflammation of the synovial membrane and connective tissue.
Methylsulfonylmethane is also very valuable to athletes, as it can provide significant relief from muscle pain or skeletal muscle disease, so it is often used by sports medicine practitioners. It helps with overstretched muscles from training or working. The recovery period is shortened and wounds heal faster.
Vitamin B3
Vitamin B3, also known as niacin, helps for the smooth functioning of the metabolism as the other B-group vitamins. Niacin is also important for the skin, nerves and cell nuclei. Vitamin B3 gives more energy, better endurance during exercise, and promotes muscle growth. The body can supply itself with the vitamin through the food or it can produce it from the amino acid tryptophan. With nutritional supplements containing vitamin B3 you can make up for any deficiency caused by an unbalanced diet or a disease. Group B vitamins are known as "brain food". Almost all of these are water-soluble and therefore should be taken systematically as they are not retained in the body.
Melissa Leaf extract (5% rosmarinic acid)
Melissa Leaf extract (Melissa officinalis) has a powerful antioxidant, antibacterial and anti-inflammatory effect.
The studies show that Melissa officinalis extract and its main constituent rosmarinic acid can improve cognitive performance and mood.
Melissa extract improves the quality of sleep, calms the mind without negative side effects, such as drowsiness or dizziness, on the contrary, it even improves alertness and mood. Rosmarinic acid, which is one of the main active ingredients of the herb, increases the levels of the neurotransmitter amino acid GABA (Gamma-aminobutyric acid), which calms brain activity, reduces stress, improves thought process and helps against anxiety and restlessness without habituation.
GABA (Gamma-Aminobutyric Acid) is a non-essential neurotransmitter amino acid that is found primarily in the human brain. It improves the movement of nerve impulses, preventing neurons from being overstimulated and has a number of positive effects on the nervous system. GABA has the ability to calm brain waves and conditions associated with nervousness, improve sleep and concentration, and help with cases of chronic anxiety. The functioning of more than half of the centers in our brain happens thanks to this amino acid. The additional intake of supplements stimulating the synthesis of GABA leads to a better protective response of the body to stress, a feeling of relaxation and relieves symptoms of fatigue and easy distraction.
Melissa contains eugenol, terpenes and rosmarinic acid – plant compounds that play an important role in fighting various viral and bacterial infections. It is also a traditional remedy for improving digestion and relieving the symptoms of reflux, ulcers, gastritis and upset stomach.
HOW DO YOU SHIP MY ORDER?
All your orders are sent via DHL.
HOW MUCH IS THE DELIVERY?
The delivery fee is different for each country. Germany €3.45, Switzerland €14.25, United Kingdom €13.95, France €13.55.
WHAT ARE THE PAYMENT METHODS AVAILABLE?
We accept debit/credit cards, PayPal and Twint.
CAN I PAY USING PAYPAL WITHOUT A PAYPAL ACCOUNT?
Yes! It is commonly misunderstood that a Paypal account is needed in order to make payments through Paypal. The truth is you DO NOT need one, although we strongly recommend you sign up to enjoy the added ease of use.
Without a Paypal account, all you need is any Debit/Credit card stated below that is supported by Paypal.
By using Paypal, we can process & deliver your orders to you in a shorter time. Paypal is the easiest & most secure way to make payment online. No account needed.
For more details, click here to see how Paypal works for you.
HOW DO I MAKE PAYMENTS USING PAYPAL? HOW DOES IT WORK?
Paypal is the easiest way to make payments online. While checking out your order, you will be redirected to the Paypal website. Be sure to fill in correct details for fast & hassle-free payment processing.
It's fast, easy & secure.
HOW LONG WILL IT TAKE FOR MY ORDER TO ARRIVE AFTER I MAKE PAYMENT?
You should expect to receive your orders within five (5) to ten (10) working days upon payment verification depending on the volume of orders received.
If you experience delays in receiving your order, contact us immediately, and we will help to confirm the status of your order.