THIS PRODUCT HAS BEEN TESTED FOR SELECTED DOPING SUBSTANCES WITHIN THE SCOPE OF COLOGNE LIST® – WITHOUT ANY COMPLAINTS.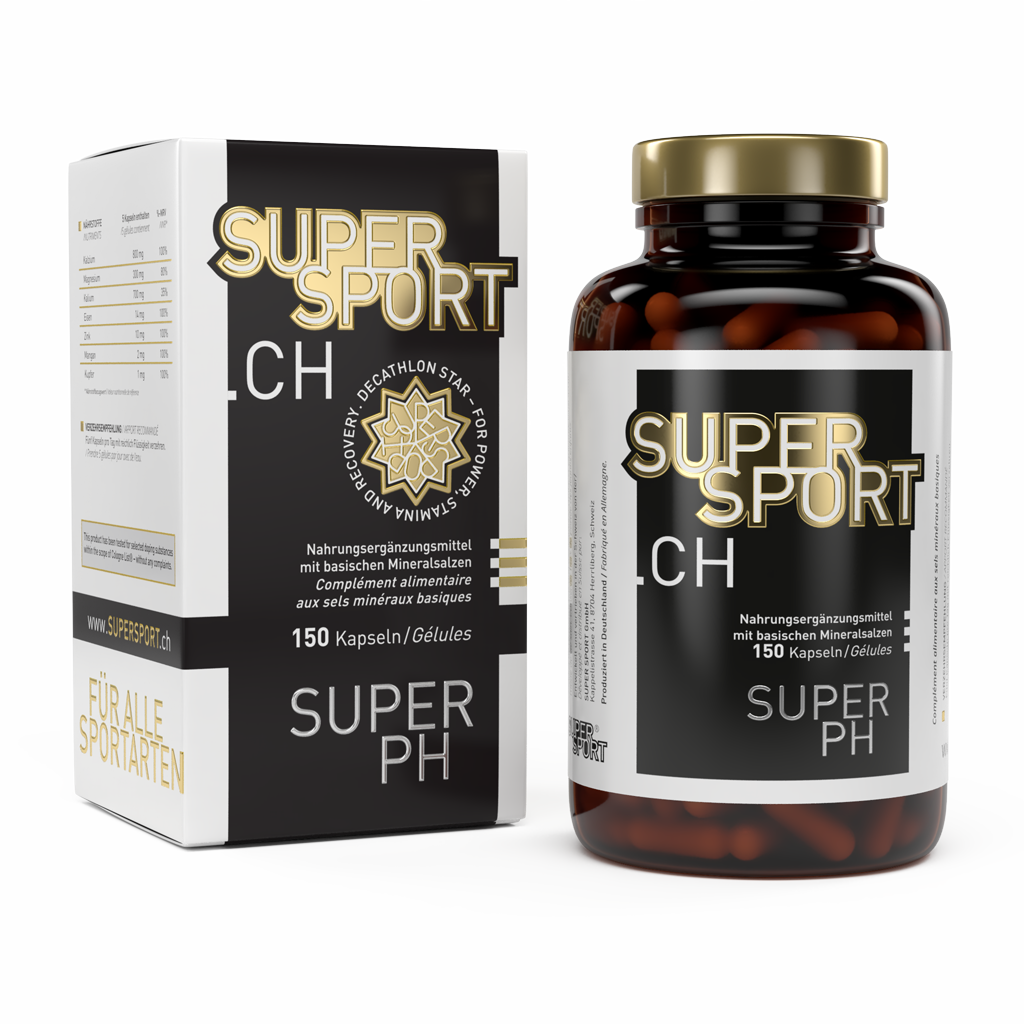 FOOD SUPPLEMENT WITH BASIC ESSENTIAL MINERAL SALTS –
100% VEGAN
SUPER PH is a supplement developed to balance the acid-alkaline levels. It is a natural and healthy way to reinforce the human body.
THIS PRODUCT CONTAINS
150 CAPS

AND IS ENOUGH FOR 1 UP TO 3 MONTHS DUE TO DOSAGE APPLICATION
THIS PRODUCT HAS BEEN TESTED FOR SELECTED DOPING SUBSTANCES WITHIN THE SCOPE OF COLOGNE LIST® – WITHOUT ANY COMPLAINTS. 
WHAT IT DOES
SUPER PH supports the proper pH balance in our bodies, which is an important component for a good health. When ideal pH levels are attained throughout the body, the result is an optimal digestion and enhanced metabolic enzyme efficiency.
SUPER PH is a supplement developed to balance the acid-alkaline levels. It is a natural and healthy way to reinforce the human body. SUPER PH has a base formulation of minerals — calcium, magnesium, potassium, iron and copper and trace elements.
HOW IT WORKS
SUPER PH supports the normal acidity levels in the human body:
Zinc contributes to normal acid-base metabolism and to the protection of cells from oxidative stress.
Magnesium contributes to electrolyte balance.
Calcium contributes to the normal function of digestive enzymes.
Acts also as a cognitive agent – iron and zinc contribute to normal cognitive function. Copper contributes to normal iron transport in the body. Magnesium, copper and potassium contribute to normal functioning of the nervous system.
It acts as a good mineral preparation for sport.
HOW TO TAKE IT
Take 5 capsules daily with water. The capsules can be taken separately on even intervals during the day regardless of the daily meals in order to bring more bioavailability of the product in the body, thus enhancing its activity.
ADVANCED NUTRIENT FEATURES
SUPER PH comes in the form of a cellulose capsule. The hydroxypropyl methylcellulose capsules have no additional components in comparison to tablets, and act as fibre material in the body. This facilitates the highest possible bioavailability of SUPER PH absorbed by the body. With 35% NRV of potassium in 5 caps, SUPER PH acts as a buffer in the stomach, which is the main source of acidity in the body. Zinc and manganese in SUPER PH are also active alkaline carbonates that are better absorbed, and help the synergy of all other implemented ingredients in the product. SUPER PH also has iron and copper.
* Nutrient Reference Value
The product comes in glass bottle with metal screw lid, packed with PVC sleeve in luxury carton box. Quantity: 150 caps / 153.5 g
MAXIMUM PROTECTION AND SAFETY:
 
The brown glass is protecting the capsules from the damaging effect of light, while the metal screw lid with air tide press sealing and head sleeve is acting as a barrier against air circulation that could bring oxidative damage to the freshly produced and filled into the bottle capsules. The carton box acts as light and glass breaking protection.
Keep out of reach of children. Consult your physician before using this product, in case you're pregnant, lactating, under age of 18, if you have any known or suspected medical condition(s) or use any prescribed medicine(s). Do not exceed the maximum recommended daily amount. This product is not a substitute for a balanced daily meal diet. Store this product in a cool and dry place under 25C with the lid tightly closed. Manufactured in Germany, in accordance with ISO 9001:2000 quality standard.
Calcium
Calcium is the most common mineral in the human body, with 99% in bones and teeth, where it plays a structural role. Calcium deficiency in children leads to rickets, and in adults – to bone softening and osteoporosis (loss of calcium from the bones and thinning, which makes them brittle and prone to breakage). Reduced levels of calcium in the bones can occur in individuals from all ages, mostly in women during menopause.
Magnesium
Magnesium is very important for the muscles as it acts as an electrolyte for the nerve impulses that help their function. Since magnesium is essential for the muscle function, magnesium deficiency manifests itself in sports with muscle tremors or spasms. We draw on our own magnesium even when we sweat, which is why it is recommended to pay attention to the regular intake of magnesium when working out regularly. Muscle tension that causes problems with back and neck may also be a result of the lack of magnesium. If the deficiency becomes permanent, the stability of bones and teeth could be affected, as well as the conduct of all enzyme dependent processes. People with problems in the gastro-intestinal activity in particular can suffer from magnesium deficiency. In order to burn fat, our body needs more magnesium than the normal daily dose.
Potassium
Potassium is important for maintaining the balance of acids and bases in the body. It's also the third most abundant mineral in the body and a required mineral for the function of several organs, including the heart, the kidneys, the brain and the muscular tissue. The primary functions of potassium in the body include fluid balance regulation and controlling the electrical activity of the heart and other muscles. Potassium is also an important electrolyte. Electrolytes assist in a range of essential body functions, including: blood pressure, normal water balance, muscle contractions, nerve impulses, digestion, heart rhythm, pH balance (acidity and alkalinity). It is an electrolyte that counteracts the effects of sodium, helping to maintain a normal blood pressure.
Iron
Iron is responsible for many processes in the body. For example, iron supports the oxygen supply of the tissues, and it stimulates the metabolism. It is also a necessary mineral for the growth, development and normal functioning of the cells as well as for the synthesis of certain hormones and connective tissue. Supplementation with iron is particularly recommended for anemia or low levels of RBCs. Iron strengthens the body and helps to reduce the symptoms of fatigue.
Zinc
Zinc is involved in the metabolism of proteins, lipids and carbohydrates. It is also very important for the production of collagen in the body. Zinc helps to form a fiber network that traps red blood cells, and thus, speeds up wound healing. It protects from premature ageing, stimulates the immune system, and it keeps skin and hair in good condition. It has a beneficial effect on the reproductive organs. Zinc is also a powerful antioxidant. In combination with vitamin A, it helps to maintain good eyesight.
Manganese
Manganese has a beneficial effect on the bone structure and the bone metabolism and it helps the body to produce key enzymes associated with the construction of bones. Manganese is involved in the formation of connective tissue, it also contributes to an increased calcium absorption by the body, it improves the thyroid gland function, and it regulates the steroids production.
Copper
Copper is an important mineral involved in many biochemical reactions in the cells. It is needed in order to transform iron into hemoglobin. It is extremely useful in the fight against macular degeneration. New studies indicate that copper can have a positive effect on Alzheimer's prevention.
HOW DO YOU SHIP MY ORDER?
All your orders are sent via DHL.
HOW MUCH IS THE DELIVERY?
The delivery fee is different for each country. Germany €3.45, Switzerland €14.25, United Kingdom €13.95, France €13.55.
WHAT ARE THE PAYMENT METHODS AVAILABLE?
We accept debit/credit cards, PayPal and Twint.
CAN I PAY USING PAYPAL WITHOUT A PAYPAL ACCOUNT?
Yes! It is commonly misunderstood that a Paypal account is needed in order to make payments through Paypal. The truth is you DO NOT need one, although we strongly recommend you sign up to enjoy the added ease of use.
Without a Paypal account, all you need is any Debit/Credit card stated below that is supported by Paypal.
By using Paypal, we can process & deliver your orders to you in a shorter time. Paypal is the easiest & most secure way to make payment online. No account needed.
For more details, click here to see how Paypal works for you.
HOW DO I MAKE PAYMENTS USING PAYPAL? HOW DOES IT WORK?
Paypal is the easiest way to make payments online. While checking out your order, you will be redirected to the Paypal website. Be sure to fill in correct details for fast & hassle-free payment processing.
It's fast, easy & secure.
HOW LONG WILL IT TAKE FOR MY ORDER TO ARRIVE AFTER I MAKE PAYMENT?
You should expect to receive your orders within five (5) to ten (10) working days upon payment verification depending on the volume of orders received.
If you experience delays in receiving your order, contact us immediately, and we will help to confirm the status of your order.