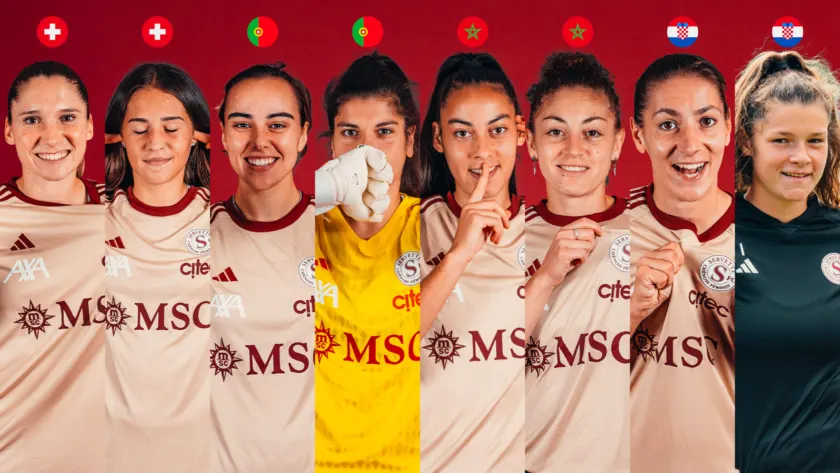 SERVIETTE WOMEN'S FOOTBALL CLUB
OUR SERVETTIENS INTERNATIONALLY
After the match against FC Basel, several of our Servetti players are returning to their national team for the next two weeks. Situation.
Mauron with Switzerland, Felber on picket
Sandrine Mauron was selected with the Swiss team by Inka Grings for the next Women's Nations League matches. Laura Felber, who was part of the last rally, will be on duty for this international break. The Nati will travel to Sweden this Friday, October 27 and will then host the reigning world champions, Spain, on Tuesday, October 31 at Letzigrund.
Pereira and Marchão with Portugal
Unsurprisingly, Inês Pereira and Joana Marchão are part of the Portuguese delegation which will face Austria twice in the Women's Nations League. The Portuguese will first travel to Austria on Friday 27 before receiving the same opponent on Tuesday 31 October.
A new coach for Imane Saoud and Elodie Nakkach
Morocco has a new coach in the person of Jorge Vilda Rodriguez who recently won the World Cup with the Spanish selection. Imane Saoud and Elodie Nakkach are therefore part of the first call-up of the Spanish coach at the head of the Atlas Lionesses. Morocco will face Namibia twice in the second round of the CAF women's pre-Olympic tournament. In the event of victory, the Moroccans (…)
Croatia will face Finland twice with Jelencic
Unsurprisingly here too, Ana Jelencic is part of the Croatian list which will face Finland twice in the Women's Nations League. The confrontations will take place on October 27 and 31.
Two young Servettians summoned
The Servetti team is doing well with two talented young players called up. Indeed, Amina Muratovic is once again part of the Swiss U19 selection, while the promising goalkeeper Gabriela Cutura will join the Croatian U19 selection with whom she has been playing for several months already. Muratovic and Switzerland will have three matches counting for the first qualifying round for Euro 2024. The young Swiss will face Cyprus, Lithuania and Albania.
As for Croatia, it will also face Latvia, Bulgaria and Georgia in qualifying for Euro 2024.